Description
IN STORE SALES ONLY plus SALES TAX at TIME of PICK-UP
By Emma Briones
Average Rating: A-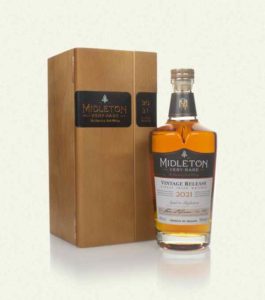 Some whiskies are just so special you don't forget the first time you taste them. I tasted Midleton Very Rare for the first time as part of a Royal Family-themed whisky tasting (weird, I know). Among the 6 or 7 whiskies of the tasting, the one that got stuck on my mind was the Midleton Very Rare. Ten years have gone by since that tasting, and almost 40 since the first Midleton Very Rare was born.
Each autumn, a new release of Midleton Very Rare is expected by fans worldwide. But, for the 2021 edition, things have changed. On one hand, it is the first to have Kevin O'Gorman's signature, as the new Master Distiller of Midleton. Also, the launch of the batch has been changed to twice a year (one at the beginning of the year and one in autumn), to ensure more availability and so people can buy it for special occasions.
O'Gorman started in July 2020 selecting the barrels for Midleton Very Rare 2021, the 38th release of the whisky. He was looking for a multilayered whisky that took the best of maturation and distillation. "I wanted balanced, not to be a maturation-driven whisky," commented O'Gorman when the whisky was launched.
Midleton Very Rare 2021 is a blend of Single Pot Still and Single Grain whiskies that range from 15 to 36 years. All of them have been aged in a mix of first and second-fill ex-bourbon barrels that had been lightly charred. The whiskey has been bottled at 40% ABV.
The Whiskey

In the glass, Midleton Very Rare 2021 has an ambered tone. On the nose, it surprises with the balance of floral notes and tropical fruit. On the fruit side, there are banana, kiwi, and tangerine aromas, while the floral notes have a touch of perfume and essential oils. It slowly evolves to sweeter notes, full of vanilla and toffee. A touch of marzipan and white coffee. A bit of pot-still spice, with pepper and nutmeg.
On the palate, it is creamy but lighter than expected. It highlights sweet vanilla, butterscotch, and cocoa powder notes. The tropical fruit notes become more citrusy. A bit of peach cake with almonds. The layers come off slowly, giving space to the floral notes, which feel like drinking a glass of perfume. Spicy notes of pepper and clove. The finish is long and lingers, with a bit of lime.
I might have tasted a dozen of different Midleton Very Rare expressions. All of them had the Midleton Very Rare DNA, but are unique in themselves. O'Gorman has stayed true to that spirit, creating with Midleton Very Rare 2021 a whiskey with its own character.
The balance in this whiskey is fascinating. It is what O'Gorman was looking for: a multi-layered whiskey that feels like a luxurious perfume. Curiously light in body but with intense notes in the palate. One of the best Midleton Very Rare I've tasted.
Addendum by Alex Southgate
On the pour Midleton Very Rare 2021 is a light caramel in color. This whiskey leaves fairly pronounced legs. Interestingly enough, I wouldn't call this a creamy or viscous whiskey. Regardless of this, it's still very appealing to the eye.
To the nose the first most notable scent is of roasted coffee. This is a very savory smelling whiskey with pronounced musky aromas. The deep, damp, smell of oak is very pronounced. Other notable features are rock salt and just a hint of ginger.
The savory nature of the nose truly carries into the tasting. The coffee notes I mentioned carry though and couple with fresher tones of apple. The combination of spices backing the other flavors up is, for me, truly of note. A medley of cinnamon, ginger and nutmeg make for a truly warming, thoroughly pleasant experience. This mix of baking spices and just a little vanilla set the tone for a long finish that remains for some time after tasting.
Personally, I really enjoyed this whiskey. The more savory elements of this malt really suit my palate. If you prefer sweeter whiskeys that are heavy on fruit I don't think that this would be as good of a match for you. I often think what food would best pair with what I'm drinking and the first thing that springs to mind here is cheese. The creamy savory notes of a good cheese board would marry with the spicier ones in this perfectly. All round a very tasty whisky but one that possibly isn't for everyone.